Radiator section 7317.200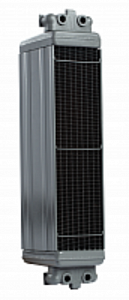 Coolant:
water, oil
Working pressure:
up to 3 atm. (0.3 MPa)
Radiator section
7317.200
is used to cool oil or water in diesel engines, transformers and other installations cooling systems.
Radiator sections use:
in the cooling system of diesel engines of TE10 and 2TE10L diesel locomotives ;
in ODTSER-1600, ONDTSE-4500/25 AC electric trains transformers.
Advantages of radiator section 7317.200:
affordable price due to the use of cutting edge technologies;
total weight has been reduced by 30%. This allows you to reduce transportation costs and simplify the radiator installation;
high heat transfer and performance characteristics.
You can place an order at
crm@radsystem.ru
, by phone or via the contact form on the website.