Radiator 75570-1301010-01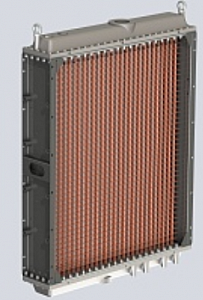 Coolant:
water
Cooling tube type:
brass flat to oval
Cooling plate type:
copper with turbulizers
Working pressure:
up to 1.2 atm. (0.12 MPa)
BELAZ 75570 mining dump trucks 90 ton payload capacity
Radiator
75570-1301010-01
is designed for installation on mining equipment in order to remove excess heat from a running engine and prevent it from overheating. This radiator is used on BELAZ 7557 series mining equipment. Radiators made of high-quality alloys of brass and copper, have a large cooling surface and effectively cope with the task of cooling 90 ton payload capacity dump trucks diesel engines.
Among other advantages of the products of the Group of Companies Cooling Systems Plant LLC and Radiator plant LLC:
durability;
reliability;
readiness for operation in difficult conditions;
high heat transfer rates;
acceptable cost.
If you have any questions regarding placing the order, prices, delivery to your place, you can always contact the representatives of our company at
crm@radsystem.ru
, by phone or via the feedback form.