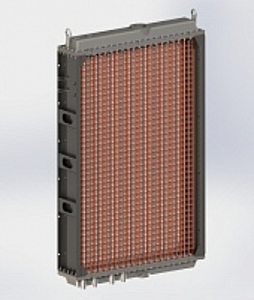 Coolant:
water
Cooling tube type:
brass flat to oval
Cooling plate type:
copper with turbulizers
Working pressure:
up to 1.2 atm. (0.12 MPa)
BELAZ 75302, 75306, 75308, 75309, 75310 series mining dump trucks
Radiators 75306-1301011 are products highly demanded in the mining industry.
Usually the radiators are changed during mining dump trucks maintenance

Radiator 75306-1301011 is designed for BELAZ 75302, 75306, 75308, 75309, 75310 series mining dump trucks cooling systems.

The principle of the radiator operation: the coolant takes heat from the heated engine, passes through the radiator tubes and gives off heat through the cooling fins to the outside environment.

When developing this radiator model, the needs of powerful mining equipment were taken into consideration. As a result, the radiator has a large cooling surface area, provides high heat transfer, has a reliable design, is durable and ready for use in difficult conditions.

You can purchase radiators for BELAZ dump trucks on the manufacturer's website through an online application. The managers of the company are always ready to answer any questions regarding products, their cost, terms of delivery and cooperation.